Happy Wordless Wednesday!
Gracie turned four years old this past week… and it brought up a lot of memories. Lots of random memories, so bear with me. So if you're here to look at Wordless Wednesday photos – scan down and take a peek and skip all my babbling.
I started blogging when Gracie was a couple months old, which is when I started doing child care from my home. I quit working outside of the home the day I went into labor with her and staying home with a bunch of little kids who were not mine became tough after a couple of months – so I made this blog to vent and try to stay sane…. and this is what it turned into. Crazy. 
I posted lots of little updates during the first year, and came across a
10 month old baby update
talking about Gracie walking along furniture, starting to drink milk, having a tooth and sleeping through the night and it makes me think of Baby Jack. He's 10 months old now. Because of his Down Syndrome, he will almost always be behind on certain milestones. Baby Jack isn't even sitting up very well. He still topples over. He most likely will not be crawling or walking along furniture for quite some time. He has no teeth, in fact, I found out that the average child with Down Syndrome does not get teeth until around 15 months of age. And sleeping through the night? What's that?!? Haha! I had Gracie on a good 3-nap schedule and a real bedtime – but Jack – he takes random naps during the day when he feels like it, in his swing. He fusses to go to bed – with me – around 7:30pm and will not sleep without me. Crazy!
 I posted about her second birthday…
When Gracie was two years old, I really 'got into' blogging. That is when I learned to blog for extra income. I blogged everything! And what I love about blogging is seeing my kids grow.
Olivia graduated that year… 
Gracie saw her very first movie, Lion King in 3D…
I posted a Wordless Wednesday about
Potty Training
Gracie and one of my daycare girls, they were just under 2.5 years old and potty trained themselves, I had nothing to do with it…
More random photos…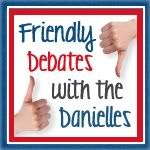 Gracie turned 3 years old…
And Gracie became a big sister…
And now… she's four years old! I just can't believe how much has happened over the past four years!
Happy Birthday Gracie!
If you're still here… thanks for reading… or looking 🙂
If you have a Wordless Wednesday, feel free to link up below. Your WW link belongs in the linky, not in my comment section. If it's in my comment section, I will delete it.

Thanks!