Welcome to Week 56
of
Friendly Debates With The Danielle's!
Each Week Danielle from "
Happenings of the Harper Household
" and I (Danielle) will host this awesome meme and we would love for you to link up and join us. 
There will be a question each week that will require you to decide where you stand regarding that topic, then of course share those thoughts with the world!
RULES:
1.) Please follow the hosts via Facebook:
Danielle B.
&
Danielle H.
2.) If you link up please leave a comment so we can visit you.
3.) This is a meme, so you MUST answer the question in a blog post.
4.) Link directly to the blog post in which you answer the question.
5.) Grab the button and place either in your post or on your blog.
6.) At the end of your post leave a suggestion for the following weeks topic.
If we choose your suggestion you will be mentioned and linked to in the following weeks post.
AND THE MOST IMPORTANT RULE:
Please respect each others opinions. This means no bashing of other blogger's in comments on their posts. Kind words and genuine questions are encouraged. If you strongly disagree with someone else the place to address your view point is in a post on your own blog. If we find that you have blatantly disregarded this you will be removed from the linky.
THIS WEEKS TOPIC
 Are You Bringing Your Kids with you to Black Friday Shop?
(This topic suggested by Nancy from
Arizona Mama
.)
YAY or Nay?
What do YOU say?
Hmmm… this is a tough one. I guess it depends on the age.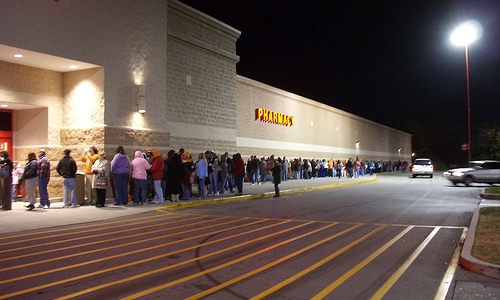 Well, wait a minute.
A couple of years we took my son Austin. He's 15 years old now, and this was about 5 years ago. He wanted to come and he was a trooper! I personally feel like I am on a serious mission when shopping on Black Friday and I feel that the kids just weigh you down. You have to be tough in certain circumstances and sometimes those stores are NO PLACE for a child.
But… this year I am thinking about going (not sure yet). And if I do, I will need to bring my 3 year old and my 4 month old. They go to bed early, so they will get plenty of sleep. I will [of course] keep them safe and warm. If I do bring them, I will wear my baby and Mike will carry Gracie if things are a little crazy. Other than that initial rush, we are not in a hurry for anything so we will probably push them in a stroller or the cart. Gracie walks most of the time but due to the crowd, we will keep her closer.
I think it will be fun! Baby Jack won't know the difference and Gracie will probably think it's fun. We will do something special like get hot chocolate and bring blankets with us. We usually finish up around 8 or 9am and then stop somewhere for breakfast and then head home to rest. Nap time will be early that day if we bring the little one's out with us!
Again, I am not totally sure if we are going to do this or not, but we might.
What about  you?
Are you going to bring your kids out shopping on Black Friday or do you think it's totally wrong?
Let us know and link up if you have a blog!
If you get a chance, visit some of our other friendly
debate
posts!