Welcome to Week 32
of
Friendly Debates With The Danielle's!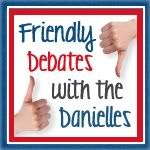 Wanna Play?
There will be a question each week that will require you to decide where you stand regarding that topic, then of course share those thoughts with the world!
RULES:
2.) If you link up please leave a comment so we can visit you.
3.) This is a meme, so you MUST answer the question in a blog post.
4.) Link directly to the blog post in which you answer the question.
5.) Grab the button and place either in your post or on your blog.
6.) At the end of your post leave a suggestion for the following weeks topic.
***If we choose your suggestion you will be mentioned and linked to in the following weeks post.
***If you are NOT a blogger… then leave us a comment below because we still love you 🙂
AND THE MOST IMPORTANT RULE:
Please respect each others opinions. This means no bashing of other bloggers in comments on their posts. Kind words and genuine questions are encouraged. If you strongly disagree with someone else the place to address your view point is in a post on your own blog. If we find that you have blatantly disregarded this you will be removed from the linky.
THIS WEEKS TOPIC
Sibling Room Sharing:
Yay or Nay?
What do YOU say?
MY OPINION?
I Say, It's Up To You!
In a smaller (or more normal sized) family, I might say no. I guess I wouldn't really say no, I probably would just way 'whatever works for you'. But in a family like mine (ginormous) then I would say yes.
My kids have really shared a room since… forever.
I will scroll through the years and explain.
1997 – 2000 – We had lived in a 2 bedroom house since 1994. I had Austin in 1997 and then Emma in 1998 so they had to share a room. It was so cute too! It was a safari theme, multicolored. I had a crib and a double sized bed in the room along with a long dresser and a glider chair. Here's a photo before the room was finished:
2000 – 2004 – In 2000, I bought my first 3 bedroom house. Months later Becca was born. Austin got his own room and the girls shared. I had a beautiful bunk bed set that came apart, so I had 2 twin size beds and a crib in there. Of course, Becca didn't use the bed for a very long time.
2004 – Mike and I got married and then and Olivia was added to my kids. That year we rented a cute little 3 unit apartment, again with 3 bedrooms. At that time we had 2 sets of bunk beds. Austin and Becca got one room with a bunk and Olivia and Emma got the other room with a bunk. Not ideal because I didn't want girls/boys sharing a room – but we had to do what we had to do, ya know? It was only for 1 year. AND they were young still.
2005 – 2008 – We had a 4 bedroom duplex. Austin in one room, Emma and Becca shared a room and Olivia had her own room. This is the way I liked it best. Austin, being a boy, needs to have his own room. Olivia, being much older than Emma and Becca, needs her own room. Emma and Becca are only 1.5 years apart so they can share with no issues.
2008 – Now – We lived in two 3 bedroom houses. (Actually one of them was a 4 bedroom, but we used the 4th bedroom for a toy room). I ended up purchasing a bunk bed for the girls. The bottom is a futon that sleeps 2 and the top is the typical twin size. This way, all three girls can sleep in the room and the room is not crowded at all. They have 2 dressers in the room and of course their closet, so they have plenty of space. (I wish I had a photo to show you, but my girls are in the middle of a sleep over so their room is messy). Oh and Olivia doesn't live with us, she just visits a time or two during the month, so it's really just 2 girls sharing that room.
Oh and I guess I left out Gracie… and this new little guy who will be here next month!
My original thought was to put Gracie's toddler bed in the girls room if we had to… but we've been comfortable with Gracie sleeping with us for all of this time now (she's 3 years old). She co-slept with us for about 6-7 months and then we put her crib in our room. We've been comfortable – she's been comfortable – so until we decided any different, she's staying put.
At the moment, we have Gracie's crib and her toddler bed in our room. She is going to be moving into her toddler bed soon… not that it matters. Our new baby boy will be sleeping with us for at least his first 6 months, so Gracie still has time to stay in her crib if she wants to. Our room is big enough, so we are happy with this situation. We have a California King bed, dressers, the kids' beds and we have no issues. Maybe when the time is right, we will move Gracie into the girls' room. Maybe 🙂
So, of course I say YAY to sibling room sharing, especially if you have a large family. I know that not everyone agrees with this kind of situation, but this is what works for us.
We are planning on purchasing a home next year and we will not settle for anything less than a 4 bedroom. We need to get a 4 bedroom again!
Oh and on a side note… I did know a family who had a 3 bedroom. They had a "boys room" and a "girls room". Each room had 2 sets of bunks! It was crazy! But I guess I am getting close, so I shouldn't be calling the kettle black, right?
Now it's your turn.
What do you think of sibling room sharing?
Yay or Nay? What do YOU say?
Write a blog post and link up!
If you are not a blogger… we still love you! Let us know what you think in a comment below! We'd LOVE to here from you!!
If you get a chance…
Drop in to some of my other Debate Posts:
Do you use real names or nicknames on your blog?
Security Blanket/Object Attachment
Baby Showers for Second Baby and Beyond
Bikinis for Toddlers, Tweens and Teens
Do You Return Your Shopping Cart to the Corral?
Extended Rear Facing Car Seats
Banning infants and toddlers from restaurants
Re-Gifting or Returning Gifts: Rude?
Strict Schedules with Children?