Welcome to Week 30
of
Friendly Debates With The Danielle's!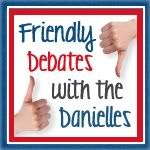 Wanna Play?
Each Week Danielle from "Happenings of the Harper Household" and I (Danielle) will host this awesome meme and we would love for you to link up and join us.
There will be a question each week that will require you to decide where you stand regarding that topic, then of course share those thoughts with the world!
RULES:
2.) If you link up please leave a comment so we can visit you.
3.) This is a meme, so you MUST answer the question in a blog post.
4.) Link directly to the blog post in which you answer the question.
5.) Grab the button and place either in your post or on your blog.
6.) At the end of your post leave a suggestion for the following weeks topic.
***If we choose your suggestion you will be mentioned and linked to in the following weeks post.
***If you are NOT a blogger… then leave us a comment below because we still love you 🙂
AND THE MOST IMPORTANT RULE:
Please respect each others opinions. This means no bashing of other bloggers in comments on their posts. Kind words and genuine questions are encouraged. If you strongly disagree with someone else the place to address your view point is in a post on your own blog. If we find that you have blatantly disregarded this you will be removed from the linky.
THIS WEEKS TOPIC
Security Blanket/Object Attachment:
Yay or Nay?
What do YOU say?
MY OPINION?
I Say Whatever!
No, really, I don't see any issues with a baby or young child having an object for security reasons.
None of my kids every used anything like a blankie but my son did have two objects that he needed to sleep with:
Blue and Tigger.
Austin didn't always have Blue, he got Blue when he was about a year old. Tigger was not supposed to be
his
. Just after Emma was born, Austin had ear tubes put in. His aunt got a little present for him while he was in the hospital so she got Tigger for Emma to be fair. Austin took Tigger immediately and slept with both Tigger and Blue for a very long time…
and Emma never even knew it was hers
haha.
Austin slept with Blue and Tigger for a very long time, but eventually him and Tigger grew apart. We still have Tigger and Austin will be 15 years old in July.
Blue on the other hand was
very hard
to get rid of. I tried talking him into "
putting it away
" for years, but he couldn't…
and I couldn't make him
. He slept with Blue until we moved one year, back in 2009. He gave it to me and asked if I could keep it safe for him. He was almost 12 years old!
YES… 12 years old
is when he finally decided he was finished with Blue. I could cry just thinking of it!
I keep Blue in my bottom dresser drawer. The drawer that I hardly go into.
Mike would sometimes tease him in a light kind of way. He'd say, "Austin, what are you going to do if you sleep over at a friends house? Are you going to bring Blue with you?" Austin was old enough to know that it was a little unreasonable, but he just wasn't ready.
I really did not see a need to force him to get rid of Blue before he was ready.
I guess if the security object was something different like a blankie or special pillow, I still wouldn't have a problem with it. I don't think I would anyway. If the object comforts them, how can I deny them that?
This was Austin in 2009, when he finally gave up Blue.
Now it's your turn.
What do you think of Induction for Convenience?
Yay or Nay? What do YOU say?
Write a blog post and link up!
If you are not a blogger… we still love you! Let us know what you think in a comment below! We'd LOVE to here from you!!
If you get a chance…
Drop in to some of my other Debate Posts:
Baby Showers for Second Baby and Beyond
Bikinis for Toddlers, Tweens and Teens
Do You Return Your Shopping Cart to the Corral?
Extended Rear Facing Car Seats
Banning infants and toddlers from restaurants
Re-Gifting or Returning Gifts: Rude?
Strict Schedules with Children?