Welcome to Week 26
of
Friendly Debates With The Danielle's!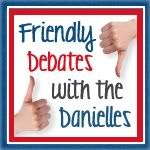 Wanna Play?
Each Week Danielle from "Happenings of the Harper Household" and I (Danielle) will host this awesome meme and we would love for you to link up and join us.
There will be a question each week that will require you to decide where you stand regarding that topic, then of course share those thoughts with the world!
RULES:
2.) If you link up please leave a comment so we can visit you.
3.) This is a meme, so you MUST answer the question in a blog post.
4.) Link directly to the blog post in which you answer the question.
5.) Grab the button and place either in your post or on your blog.
6.) At the end of your post leave a suggestion for the following weeks topic.
***If we choose your suggestion you will be mentioned and linked to in the following weeks post.
***If you are NOT a blogger… then leave us a comment below because we still love you 🙂
AND THE MOST IMPORTANT RULE:
Please respect each others opinions. This means no bashing of other bloggers in comments on their posts. Kind words and genuine questions are encouraged. If you strongly disagree with someone else the place to address your view point is in a post on your own blog. If we find that you have blatantly disregarded this you will be removed from the linky.
THIS WEEKS TOPIC
Pacifiers?
Yay or Nay?
What do YOU say?
MY OPINION?
I Say Yay. 

We come home from the hospital with the binki/paci already in use. It's a life saver in my mind!
Luckily, for my sanity, all 4 of my kids always accepted it. I know a lot of baby's who did not take to a paci at all.
With my first three kids, we started using paci's from day #1. We weaned early, right around a year old.
With my fourth baby, Gracie, we did not wean when we should have (in my opinion) and she continued to depend on her binki until she was a little over two years old.
Around one year old we started leaving her binki in her crib. She knew she could only have it while she slept.
That worked out for a while, but then a couple of my daycare kids messed that up. They were still walking around with their binki's so Gracie would steal theirs.
We had to give Gracie her binki back during the daytime so that she would stop stealing the other kids binki's.
Just after Gracie's 2nd birthday, we started trying again to keep it in the crib.
We also used binki's in the car.
Then one day, we "lost" them all. We 'looked and looked' and couldn't find them anywhere 🙂
Every time she went to take a nap, she would ask me to look for it… and I said I would. Gracie was satisfied that I was looking for it… and eventually she stopped asking.
It worked out a lot better than I expected.
There are many pro's and con's to pacifier use.
In my opinion, pacifiers help babies sleep better and help sooth them when they are fussy.
According to research, pacifiers may help reduce the risk of SIDS. In fact, the American Academy of Pediatrics recommends offering a pacifier at naptime or bedtime until age 1.
I think another benefit to pacifier use is it may distract them from sucking their thumb. I've never had a thumb sucker, but I think they are adorable! I always love seeing ultrasound pictures of babies sucking their thumbs in the womb, it melts my heart.  Unfortunately, I think it would be very hard to break that habit compared to breaking them of the pacifier.
Pacifier use as early as birth may interfere with breast feeding (nipple confusion). I'm so happy that never happened to me, but I've always been aware that it was a possibility and I've been ready to ditch the binki if that were to happen.
Dependency is another risk of pacifier use. We've seen that. But with my 4, it has always been easy to deal with.
Another issue with pacifier use is dental issues. I never noticed an issue with my first three kids' teeth, but with Gracie I DID notice. Her front, top teeth (the top 4) did look like they were in the wrong spot. I did not notice until one day she was laying on my lap (looking upward) and I could see the deformation. I could not notice it when I was facing her, but in that position it was very noticeable. That evening when Mike got home, I showed him and we decided to ditch the binki.
I have to admit, I do not like seeing older children walking around with binki's. It's a pet peeve of mine to try and decipher what they are trying to say when their mouth is plugged up. I can understand that it is a comfort, but anything over 3 or 4 years old just seems to be a bit too much for me.
So, what do you think?
Are you for or against pacifier use?
Now it's your turn.
Pacifiers? Yay or Nay? What do YOU say?
Write a blog post and link up!
If you are not a blogger… we still love you! Let us know what you think in a comment below! We'd LOVE to here from you!!
If you get a chance…
Drop in to some of my other Debate Posts:
Bikinis for Toddlers, Tweens and Teens
Do You Return Your Shopping Cart to the Corral?
Extended Rear Facing Car Seats
Banning infants and toddlers from restaurants
Re-Gifting or Returning Gifts: Rude?
Strict Schedules with Children?