Welcome to Week 24
of
Friendly Debates With The Danielle's!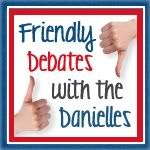 Wanna Play?
Each Week Danielle from "Happenings of the Harper Household" and I (Danielle) will host this awesome meme and we would love for you to link up and join us.
There will be a question each week that will require you to decide where you stand regarding that topic, then of course share those thoughts with the world!
RULES:
2.) If you link up please leave a comment so we can visit you.
3.) This is a meme, so you MUST answer the question in a blog post.
4.) Link directly to the blog post in which you answer the question.
5.) Grab the button and place either in your post or on your blog.
6.) At the end of your post leave a suggestion for the following weeks topic.
***If we choose your suggestion you will be mentioned and linked to in the following weeks post.
***If you are NOT a blogger… then leave us a comment below because we still love you 🙂
AND THE MOST IMPORTANT RULE:
Please respect each others opinions. This means no bashing of other bloggers in comments on their posts. Kind words and genuine questions are encouraged. If you strongly disagree with someone else the place to address your view point is in a post on your own blog. If we find that you have blatantly disregarded this you will be removed from the linky.
THIS WEEKS TOPIC
Easter Bunny?
Yay or Nay?
What do YOU say?
MY OPINION?
I Say Nay. 

This is another one of those topics where I am the minority, but that's okay.
I was a Sunday School teacher for quite a few years and in my high school class, we used to do a study on the holidays every year.
Easter is fun to celebrate and that's fine – but I just do not like to associate Easter with the Resurrection of Jesus. I guess if we 'do' the Easter Bunny, decorate and hide/find eggs, Easter baskets – it's fine… as long as I keep it apart from Jesus. We prefer to use the term "Resurrection Sunday" instead of "Easter".
Actually, the word "Easter" is not used in the bible. I suppose I should be more clear. In all of the original translations of the bible, the word "Easter" is not used. A couple of the modern versions use the word only once, and they use it wrong:
Acts 12:4
"And when he [Herod the King] had apprehended him [Peter], he put him in prison, and delivered him to four quaternions of soldiers to keep him; intending after Easter to bring him forth to the people."
The Hebrew word for the word "Easter" here is Pesach – which actually means "Passover". This Hebrew word is translated "Passover" in over 72 verses, depending on which bible version you are reading (sometimes as many as 87). So clearly, the word "Easter" in Acts 12:4 should have been translated "Passover".
And nowhere in the bible to we find anyone celebrating Easter with the Easter Bunny and eggs and Easter baskets, just as we do not find anyone celebrating Christmas with Santa.
This is not my biggest complaint.

My biggest complaint is the origin of Easter.
Easter dates back to the time of Nimrod, shortly after Noah's flood. Nimrod was a great-grandson of Noah, who rebelled against God. After Nimrod died, his wife, Queen Semiramis gave birth to an illegitimate son, claiming that he was the promised seed (the savior). This child was worshipped, but Queen Semiramis was worshipped even more. She became the goddess of the moon, fertility, etc.
She was called Mother Goddess "ISHTAR" (originally pronounced "Easter"). She was also called Eostre, Astarte, Ostera, and Eastre.
A false religion developed including sun and moon worship, priests, astrology, demonic worship, worship of stars associated with their gods, idolatry, mysterious rites, human sacrifice, and more.
Mother Goddess was worshipped as the goddess of fertility, sexual love and birth. Orgies and prostitutes were used in worship.
The rabbit (Easter Bunny) symbolizes the Mother Goddess and is a sexual symbol of fertility. Many parts of the world also associate the rabbit with periodicity, human and lunar.
The eggs are another symbolism of fertility. The eggs were supposed to symbolize Mother Goddess, even using her name Semiramis, (Easter egg) and the eggs were to fall from the sky.
As far as participating in the coloring of eggs, visiting the Easter Bunny and making/receiving an Easter basket – I suppose it is all just innocent fun for the kids (and parents too). But I have a hard time participating in these things knowing the origin of them all. Knowing that these practices were clearly against Christianity just makes me feel guilty.
We took Gracie to sit with the Easter Bunny a couple of years ago… I just wasn't ecstatic about it.
We were at the mall yesterday and we walked into the Easter Bunny area. We actually tried to get Gracie to go over to him, but she freaked out. I went over and shook his hand and he waved at Gracie… while she acted like he was a monster, haha.
We do color eggs, but we were honest with the kids years ago about Easter. They knew the truth about the Easter Bunny back in 2006 when they were 6, 7 and 8 years old. That was the year we told them the truth about everything (all of the holiday characters). That was the year we decided to color & hide eggs and have fun with the Easter baskets, but know that the Easter Bunny is not real… and the real reason we celebrate Resurrection Sunday. Once they got a bit older, we explained the origin of Easter and the other "Christian" holidays.
They were cool about it.
So there ya go – that's my opinion.
Popular?
Nope… but that's okay 🙂
Now it's your turn.
Easter Bunny in Your Home? Yay or Nay? What do YOU say?
Write a blog post and link up!
If you are not a blogger… we still love you! Let us know what you think in a comment below! We'd LOVE to here from you!!
If you get a chance…
Drop in to some of my other Debate Posts:
Bikinis for Toddlers, Tweens and Teens
Do You Return Your Shopping Cart to the Corral?
Extended Rear Facing Car Seats
Banning infants and toddlers from restaurants
Re-Gifting or Returning Gifts: Rude?
Strict Schedules with Children?