Welcome to Week 17
of
Friendly Debates With The Danielle's!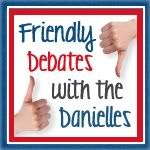 Wanna Play?
Each Week Danielle from "Happenings of the Harper Household" and I (Danielle) will host this awesome meme and we would love for you to link up and join us.
There will be a question each week that will require you to decide where you stand regarding that topic, then of course share those thoughts with the world!
RULES:
2.) If you link up please leave a comment so we can visit you.
3.) This is a meme, so you MUST answer the question in a blog post.
4.) Link directly to the blog post in which you answer the question.
5.) Grab the button and place either in your post or on your blog.
6.) At the end of your post leave a suggestion for the following weeks topic.
***If we choose your suggestion you will be mentioned and linked to in the following weeks post.
***If you are NOT a blogger… then leave us a comment below because we still love you 🙂
AND THE MOST IMPORTANT RULE:
Please respect each others opinions. This means no bashing of other bloggers in comments on their posts. Kind words and genuine questions are encouraged. If you strongly disagree with someone else the place to address your view point is in a post on your own blog. If we find that you have blatantly disregarded this you will be removed from the linky.
THIS WEEKS TOPIC
Kids in the delivery room?
Yay or Nay?
What do YOU say?
MY OPINION?
Yay!
I saw this topic posted a few days ago and I thought it was interesting how many different opinions there were on the issue. I really can not believe how many woman said "NO WAY!" and then I read a few comments that said, "birth is not a medical procedure, it is a family event" (if I remember that correctly), and that really hit me. Birth is not a medical procedure, even though that is what society treats it as.
Now, as for kids in the delivery room during the 'family event' of welcoming a new child into this world and sharing that beautiful experience… I am all for it.
Personally, I wanted my 3 daughters in the delivery room when Gracie was born in April of 2009. I wanted this for a few different reasons. At the time, they were 15, 10 and 8 years old.
I think, being girls, they would really enjoy this experience within itself. The labor process, observing Mike deal with me and how awesome he is during it all. Watching the birth process would be such a experience for them to observe. And the intimate time after baby is born, watching baby nurse for the first time, watching Mike & I with the baby, the girls getting to share that experience and hold the baby for the very first time. It all just so beautiful, how can you not want to share that moment with your whole family?!? Watching their baby sister come into this world, is something they would never forget. What a beautiful experience.
I believe it would have created a special bond between my girls and I that we do not have. A more intimate one.
I also think being involved (or at least present) in this situation is an awesome learning experience.

Being girls, I really think the birth of a baby is something they need to experience and be informed about, even at the age that they were.
Especially my 15 (at the time) year old step-daughter. This may be a tad bit wrong in some eyes, but I think that was a perfect age to view the live birth of a baby so that she could get that whole experience in her mind (and KEEP it there) as a warped form of birth control. Not that she was sexually active, but I figured it would serve it's purpose in the near future, even if 3 or more years away.
Now that is my personal opinion based on the age of my girls at the time. They ended up not being with me when we went to the hospital. I asked my doctor about this and I wasn't given much feedback, nor did I look much further into it. What I really wanted was an adult that could 'cater' to my girls while I was in labor. I wanted someone to be there for them. My labor was 22 hours long, so I wanted someone there to take them down to eat if they were hungry or walk around with them if they got antsy. I could not get anyone to help out, so I never pushed the doctor to look into it more. If I had someone for them, I would have pushed for them to be in with me.
Now, if I had younger kids, I still carry the same opinion. However, I think it would be more difficult on mom if she had a younger child in the delivery room. Our Gracie is almost 3 years old. She will be a little over 3 years old when our next baby is born. I can't imagine having here in the room with me – and not being able to get up and deal with her. Of course Mike would be there, but I would want someone else there also so that when I needed him, I could have him. I think this may be too difficult in a hospital environment. At a home birth, this situation would be perfect! And I would so so so love a home birth!! And at a home birth, I would love for my baby girl (I mean big girl) to be with us.
So, that's my opinion…
Now it's your turn.
Kids in the delivery room? Yay or Nay?
Write a blog post and link up!
If you are not a blogger… we still love you! Let us know what you think in a comment below! We'd LOVE to here from you!!
If you get a chance…
Drop in to some of my other Debate Posts:
Extended Rear Facing Car Seats
Banning infants and toddlers from restaurants
Re-Gifting or Returning Gifts: Rude?
Strict Schedules with Children?