Welcome to Week 17
of
Friendly Debates With The Danielle's!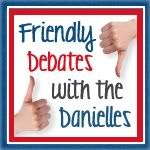 Wanna Play?
Each Week Danielle from "Happenings of the Harper Household" and I (Danielle) will host this awesome meme and we would love for you to link up and join us.
There will be a question each week that will require you to decide where you stand regarding that topic, then of course share those thoughts with the world!
RULES:
2.) If you link up please leave a comment so we can visit you.
3.) This is a meme, so you MUST answer the question in a blog post.
4.) Link directly to the blog post in which you answer the question.
5.) Grab the button and place either in your post or on your blog.
6.) At the end of your post leave a suggestion for the following weeks topic.
***If we choose your suggestion you will be mentioned and linked to in the following weeks post.
***If you are NOT a blogger… then leave us a comment below because we still love you 🙂
AND THE MOST IMPORTANT RULE:
Please respect each others opinions. This means no bashing of other bloggers in comments on their posts. Kind words and genuine questions are encouraged. If you strongly disagree with someone else the place to address your view point is in a post on your own blog. If we find that you have blatantly disregarded this you will be removed from the linky.
THIS WEEKS TOPIC
Kids Allowance?
Yay or Nay?
What do YOU say?
MY OPINION?
For the most part, I say Nay!
I tend to have an old fashioned way of thinking on this topic.
I believe the household should be ran in the "Little House on the Prairie" style. In other words, I believe everyone in the home should contribute to making the home run perfectly.
I do not believe that we should "bribe" our kids (by paying them) to do the things that they should do to contribute as a family member. (sorry if that is harsh)
Now…
I do pay the kids for extras.
For example, we pay our son (14 years old) to cut the grass each week or shovel in the winter, but not his daily chores. And recently I just started paying 'allowance' to my girls for an extra chore each day – and mostly because I am pregnant and exhausted by the end of the day. Crazy, I know. But it is well worth the few bucks in my opinion!
Here is the list of chores my kids have to do with no allowance:
1 kid each night does the dishes/kitchen (each night they switch), includes garbage, sweeping & cleaning the dinning room table.
Girls clean 1 bathroom each on Saturdays (or earlier if needed).
My son takes out garbage on garbage day.
Each kid does his/her own laundry.
Their Rooms (which are usually messy anyway because I am not super strict about it.)

Chores they do get allowance for:
My son cuts the grass weekly or shovels when needed in winter.
Girls pick up play room toys from my daycare kids and vacuum each night. They switch back & forth. This is something I normally do, but I am so huge now and by the end of the day, my back is killing me… so it is well worth paying for the extra help.
We've discussed paying the kids allowance, but we really think they should contribute to the household. Being a large family, the home runs smoother if everyone contributes. And heck, I don't get "paid" do do the chores, so why should the kids?!? Besides that, our kids get a lot from us. They get to go do things with friends when they want to, they have their fair share of sleep overs, movies, we go out to eat regularly and most of the time they chose where we go. When they want (or need) something, we get it. Weather it's clothes or accessories or toy-type things. I think they benefit more that way, rather than getting an allowance and buying their own goodies.
We started having the kids do this about 6-ish years ago, so they were 6, 7, 8 years old at the time. At that time, they would do dishes only.
I guess I am a slave driver.
**Edited to add…
The first comment below made me realize that there is a "saving money issue" that parents like to use for the reason for allowance. I forgot to address that.
Our kids get money for birthday's and Christmas and a few other times a year. Like I stated above, they do make a little bit off of us during the week. They all save their money and they also put money in the offering at church when they feel like it. In fact, one of my kids, Emma, likes to pay "tithes" and actually figures out her 10% when she has made money. My son had saved up enough  money 2 years ago to purchase his own refurbished laptop. I was so proud of him!! The girls usually waste their money on material things but they also like to save up. They try to keep some money saved, and spend a little too. My son on the other hand is ALWAYS saving for something he wants.
Now it's your turn.
Kids Allowance? Yay or Nay?
Write a blog post and link up!
If you are not a blogger… we still love you! Let us know what you think in a comment below! We'd LOVE to here from you!!
If you get a chance…
Drop in to some of my other Debate Posts: