Welcome to Week 13
of
Friendly Debates With The Danielle's!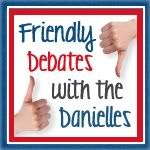 Wanna Play?
Each Week Danielle from "Happenings of the Harper Household" and I (Danielle) will host this awesome meme and we would love for you to link up and join us.
There will be a question each week that will require you to decide where you stand regarding that topic, then of course share those thoughts with the world!
THIS WEEKS TOPIC
Extended Rear Facing Car Seats
Yay or Nay?
What do YOU say?
MY OPINION

?
YAY A MILLION TIMES!
Please watch this short video below – it is what opened my eyes to the danger of having your child forward facing.
First of all, the car seat safety laws are only the minimum requirements. I often wonder if parents realize this. Parents – You don't HAVE TO turn your child around at that time!
Gracie is 2.5 years old now, but when she was just under one year old I was getting really excited because I knew I could legally turn her car seat around to forward facing. I knew it would be more convenient and I knew she would enjoy riding facing forward.
I began talking about it with my Facebook friends in the different groups I am in, and some moms were talking about extended rear facing. I didn't give it much thought. I just thought it was a preference, just like other parenting issues like bottle vs. breast.
Then one of my friends kept posting videos and links to statistics like the video above and that is what changed my mind.
"The most common type of crash is the frontal crash. In a frontal crash, the entire back of a rear-facing car seat absorbs the crash force, protecting the child's head, neck, and spine. The side impact crashes are less common, but more serious. Having the car seat rear facing again protects the head, neck and spine.  The child's head stays contained better within the car seat when it is rear facing.

In a crash with the child in a forward facing car seat, the body is held in place but the head and arms are thrown violently forward which can stretch or break the spinal cord. The spinal cord of a child sitting forward facing can stretch up to 2 inches. Unfortunately a spinal cord only needs to stretch 1/4 of an inch to break or cause paralysis.

Here are some statistics I have found in my search:

42% of all unintentional childhood deaths are due to crashes
In 2006, unintentional motor vehicle traffic deaths were the leading cause of injury death for ages 1-34. Under age 1, they ranked 3rd (behind unintentional suffocation and homicide).
42% of fatalities for children up to age 8 in the back seat are from side impacts.
For children in car seats, forward-facing kids are 4 times more likely to be injured in a side impact than rear-facing kids.
Rear facing car seats reduces the risk of death by 71%."
This is all enough information for me to keep my Gracie rear facing for a very long time.
These two photos were from around the time Gracie turned 2 years old. She has never known about forward facing, so we don't have issues with her being unhappy.
One of my pet peeves (sorry any mom's reading this, I do not mean to offend) is when mom's say "if I turned my child around to rear facing now, they would be so upset and throw a horrible fit". I hate hearing that and I think it's a poor excuse. So you deal with a fit from your child for a week or so until your child realizes that this is the way it has to be. It is for their safety. I would rather my child have broken legs, and not a broken neck… and if that means they throw some fits – so be it. At least they are alive.
This was in the summertime, Gracie was about 29 months old here:
She doesn't look too uncomfortable, does she?
Please parent – please read through the statistics and consider leaving your child rear facing for an extended period of time. And if they are already facing forward, please consider turning them around for their safety.
Statistics do not lie!
Here's some more good info:
Now it's your turn.
Extended Rear Facing Car Seats? Yay or Nay?
Write a blog post and link up!
If you are not a blogger… we still love you! Let us know what you think in a comment below! We'd LOVE to here from you!!
If you get a chance…
Drop in to some of my other Debate Posts:
Banning infants and toddlers from restaurants
Re-Gifting or Returning Gifts: Rude?
Strict Schedules with Children?