Welcome to Week 15
of
Friendly Debates With The Danielle's!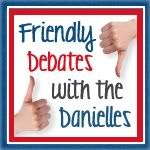 Wanna Play?
Each Week Danielle from "Happenings of the Harper Household" and I (Danielle) will host this awesome meme and we would love for you to link up and join us.
There will be a question each week that will require you to decide where you stand regarding that topic, then of course share those thoughts with the world!
RULES:
2.) If you link up please leave a comment so we can visit you.
3.) This is a meme, so you MUST answer the question in a blog post.
4.) Link directly to the blog post in which you answer the question.
5.) Grab the button and place either in your post or on your blog.
6.) At the end of your post leave a suggestion for the following weeks topic.
***If we choose your suggestion you will be mentioned and linked to in the following weeks post.
***If you are NOT a blogger… then leave us a comment below because we still love you 🙂
AND THE MOST IMPORTANT RULE:
Please respect each others opinions. This means no bashing of other bloggers in comments on their posts. Kind words and genuine questions are encouraged. If you strongly disagree with someone else the place to address your view point is in a post on your own blog. If we find that you have blatantly disregarded this you will be removed from the linky.
THIS WEEKS TOPIC
Birth Control for your Teen?
Yay or Nay?
What do YOU say?
MY OPINION?
Nay.
I know I am going to be the 'odd man out' with this one, but I say no. I do have that little voice in the back of my mind saying, "but, what if".
I just can not come to terms with condoning sexual behavior in teens, let alone before marriage. I know people are going to say, "I am not condoning sex" – but you are. If you are giving them birth control, you are condoning sex. There is no in between.
Now…
Did I have sex as a teen? Yes.
Did I have sex before marriage? Yes.
Am I so naïve to think my kids won't have sex as a teen? No.
But all I can do is my best to inform them and I just can not hand them birth control and say, "here ya go, just be safe!" – That is what the world does. That is what society does.
I am not society.
I am not the world.
I believe it's my responsibility to teach them what God says about sex and marriage and teach them the reality of it at the same time, and in an open enough way that they feel that they can come to me (us) for any reason or question.
Here is my plan (which is already in effect): Be open. Very open. Both Mike and I are very open about everything surrounding sex, our bodies and in fact, what God says about it all. "The Change" in their bodies and sex is all rolled into one.
Mike has done a fantastic job dealing with Austin (thank GOD!) who is 14 years old now.
And believe it or not, we have both dealt with the girls.
Olivia is 18 now, so that issue is way long gone. We came to the topic of birth control with Olivia when she was only 12 years old. Olivia's mom was a teen mother. She had Olivia when she was 15 years old and her biggest fear was that Olivia would do the same. So she had planned on putting Olivia on birth control as soon as she turned 13. Mike & I did not agree (but who am I anyway? I am just the evil step-mother, so my opinion does not count). We sat down with Olivia and talked to her about sex, boys n general, boyfriends (in which she had just had her first). I sat down with her at the computer and together we researched every kind of sexually transmitted disease and every birth control. All of the side effects of each birth control, how they worked and every detail you could possibly imagine. Olivia asked if I could print it out for her, so I did. Olivia decided that she did not want to be on birth control and was not on it for quite a few years. Finally when Olivia was 17 years old, she started taking the birth control pill, but was not consistent, nor interested. That only lasted a few months and she gave up. Now (a year later) I believe she gets the shot. She has had the same boyfriend for over a year now. We have no idea if she is sexually active, but we believe they are both very responsible people and trust that they will make good decisions.
As for Emma (13 years old) and Becca (11 years old) – I will not be putting them on birth control.
Emma does now a few girls in her school who have already had babies. We (Emma, Becca and I) have discussed how difficult their lives must be and what their future holds. We have discussed what kind of support they have or do not have. The girls both know where I stand on that issue – I would always support them no matter what poor choices they make. Thankfully, Emma knows how difficult newborns, infants and toddlers are, so that's a plus, but not necessarily going to be in her head at the right time or place.
I am hoping she is knowledgeable enough to make the right decisions regarding sex.
But at the same time, in my opinion, any teen making a decision to have sex may be a smart teen, but is not making a smart decision. Even if they are knowledgeable and informed, it is not a smart decision in my book. But I just can not hand them birth control. I just can't.
And on a side note – I am a freak about chemicals, medications and hormones and there is no way I will let them take a birth control that is pumping their still maturing bodies full of hormones.
No way.
I, myself, won't even use birth control for that very reason.
Now it's your turn.
Would you put your teen on birth control? Yay or Nay?
Write a blog post and link up!
If you are not a blogger… we still love you! Let us know what you think in a comment below! We'd LOVE to here from you!!
If you get a chance…
Drop in to some of my other Debate Posts:
Extended Rear Facing Car Seats
Banning infants and toddlers from restaurants
Re-Gifting or Returning Gifts: Rude?
Strict Schedules with Children?