Welcome to Week 7
of
Friendly Debates With The Danielle's!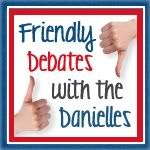 Wanna Play?
Each Week Danielle from "Happenings of the Harper Household" and I (Danielle) will host this awesome meme and we would love for you to link up and join us.
There will be a question each week that will require you to decide where you stand regarding that topic, then of course share those thoughts with the world!
RULES:
2.) If you link up please leave a comment so we can visit you.
3.) This is a meme, so you MUST answer the question in a blog post.
4.) Link directly to the blog post in which you answer the question.
5.) Grab the button and place either in your post or on your blog.
6.) At the end of your post leave a suggestion for the following weeks topic.
***If we choose your suggestion you will be mentioned and linked to in the following weeks post.
***If you are NOT a blogger… then leave us a comment below because we still love you 🙂
AND THE MOST IMPORTANT RULE:
Please respect each others opinions. This means no bashing of other bloggers in comments on their posts. Kind words and genuine questions are encouraged. If you strongly disagree with someone else the place to address your view point is in a post on your own blog. If we find that you have blatantly disregarded this you will be removed from the linky.
THIS WEEKS TOPIC
Vaccines – Yay or Nay? What do YOU say?
MY OPINION
Nay a million time… and to the moon and back!
My anti-vaccinating opinion comes from everything posted below and so much more. I will apologize in advance for writing too much… but then again, maybe this will help someone, so I will take that apology back.
I'd like to start with a quote from Dr. Sears:
"Some people feel that vaccine books aren't necessary, because to read one implies you don't trust your doctor or the medical community. After all, why not just ask your doctor if vaccines are absolutely necessary and safe and leave it at that? It takes all of one minute, then you're done. No research or effort on your part is needed. Here's the problem with that approach. Doctors, myself included, learn a lot about diseases in medical school, but we learn very little about vaccines, other than the fact that the FDA and pharmaceutical companies do extensive research on vaccines to make sure they are safe and effective. We don't review the research ourselves. We never learn what goes into making vaccines or how their safety is studied. We trust and take it for granted that the proper researchers are doing their job. So, when patients want a little more information about shots, all we can really say as doctors is that the diseases are bad and the shots are good. But we don't know enough to answer all of your detailed questions about vaccines, nor do we have the time during a regular health check up to thoroughly discuss and debate the pros and cons of vaccines. That's why I've written this book. I did the research. I've spent the last 13 years learning everything I could about vaccines and the diseases they are designed to prevent and put it all together in one place so you could get all your questions answered."
DOSES
Back in 1982 pediatricians were giving 23 doses of 7 child vaccines. By 2007, the federal government recommended immunizations more than doubled to 54 doses of 16 child vaccines. These recommended immunizations included diphtheria (6 doses), pertussis (6 doses), tetanus (6 doses), polio (4 doses), measles (2 doses), mumps (1 dose), rubella (1 dose), HIB (4 doses), hepatitis B (3 doses), chicken pox (2 doses), hepatitis A (2 doses), pneumococcal (4 doses), rotavirus (3 doses), influenza (5 doses), meningococcal (1 dose), and HPV (3 – for girls).
Does this alarm anyone besides me?
Want more?
COMMON TOXIC VACCINE INGREDIENTS/CHEMICALS:
There are many, many more!
Don't believe me?
Check out the list of each vaccine and each and every ingredient in each vaccine… along with each vaccine-associated reaction and condition.
VACCINE CASUALTIES
The Institute of Medicine published reports in 1991 and 1994 that confirmed that vaccines can cause damage to the immune system and brain, including death.
VACCINE INJURY COMPENSATION STATISTICS (2011)
OVER 1,000 DEATHS
OVER 12,000 INJURIES
OVER 12,000 Compensated IN 2010 FROM Adverse Reactions to VACCINATIONS
$2,213,229,050.37 Dollars AWARDED IN 2010 FOR ADVERSE EFFECTS… REPORTED: http://www.hrsa.gov/vaccinecompensation/statisticsreports.html#Stats
I most certainly do not want to be one included in this list, however I am. I have 2 children with issues that I believe were caused by vaccines and I believe that I also have issues due to vaccines.
VACCINE INSERTS DO NOT LIE –
How many parents go to the doctor appointment and before letting their child be injected, they ask for the vaccine insert and READ IT? I have a feeling that if parents did read the inserts, they most certainly would not go through with the vaccine.
Vaccine inserts list SIDS and Autism as adverse events: http://www.fda.gov/downloads/BiologicsBloodVaccines/Vaccines/ApprovedProducts/ucm101580.pdf –
It is a fact that coroners do not check vaccine status of SIDS victims.
DO YOU want to take that chance? I certainly do not.
Here is a vaccine insert – see for yourself:
"There have been no controlled trials adequately demonstrating a decrease in influenza after vaccination" 
Here are the rest of the inserts:
http://www.immunize.org/packageinserts/
Here is the DTaP Insert that states,
"Adverse events reported during post-approval use of Tripedia vaccine include idiopathic thrombocytopenic purpura, SIDS, anaphylactic reaction, cellulitis, autism, convulsion/grand mal convulsion, encephalopathy, hypotonia, neuropathy, somnolence and apnea."
http://www.fda.gov/downloads/BiologicsBloodVaccines/Vaccines/ApprovedProducts/ucm101580.pdf
I find it interesting that the actual vaccine insert states SIDS and Autism as adverse events, but so many people want to over look Autism and not consider that the vaccine ingredients may have caused it. And on the topic of SIDS… not one single SIDS case has ever looked at the baby's vaccine records to see if there is a correlation. Sids usually occurs right after baby receives his shots.
As for the Whooping Cough "scare" – here is a bunch of studies that debunk the Whooping Cough Vaccine Myth. It just so happens that the one's who are getting the Whooping Cough ARE VACCINATED!
http://www.dailypaul.com/167931/a-collection-of-mainstream-news-reports-and-studies-exploding-the-whooping-cough-vaccine-myth
Autoimmune Disorders
How about vaccine ineffectiveness? I do not believe vaccines are 'immunizations'. In fact, far from it, I believe vaccines destroy the immune.
In1980, less than 2 million children ages 14 years or younger suffered with asthma – an autoimmune disorder. In 2002 that number had risen to between 6.5 and 9 million. That is between 9 and 13% of all children or 1 in 9 children!!
Asthma is just one example. There are hundreds.
What about things like allergies, chronic ear infections, eczema?
Learning Disabilities
Since the 1970's (back when half as many child vaccines were given), more than twice as many children are suffering with chronic brain and immune system dysfunction. In 1970, 4 in 10,000 children developed autism. In February 2007, the CDC published an analysis of 2002 data, which revealed that 1 in 94 to 1 in 303 children developed autism with an average of 1 in 150 or more suffering from Autism Spectrum Disorders.
In 2003 there were nearly 3 million children ages 3 to 21 years old in public school programs that were classified 'learning disabled'. Back in 1976 there were only 796,000.
A national survey in 2005 reported that approximately 16% of boys and 8% of girls ages 5 to 17 years in America had been diagnosed with learning disabilities or Attention Deficit Hyperactivity Disorder (ADHD) – which is about 1 in 6.
Encephalitis is swelling of the brain. Doctors just tell you that it's normal for your baby to scream after shots. The swelling of the brain (caused by vaccination) is mistakenly taken for shaken baby syndrome. THAT IS HOW AWFUL ENCEPHALITIS IS! AND VACCINES CAUSE THIS! Your baby is SCREAMING after shots! THIS IS WHY! It also causes the fever, sleepiness, and loss of appetite. This is the mild symptoms of encephalitis. The severe symptom is DEATH. And like I said, there are parents out in the world who have been accused of shaken baby syndrome who have NOT shaken and abused their precious little babies.

Encephalitis is also listed on quite a few vaccine inserts as an adverse effect. Here is just one insert: http://www.fda.gov/downloads/BiologicsBloodVaccines/Vaccines/ApprovedProducts/UCM123789.pdf

Read more on Encephalitis:
http://search.mercola.com/search/pages/Results.aspx?k=Encephalitis
http://thetruthergirls.com/DTaP_Damage.html

ABORTED FETAL TISSUE is an ingredient in vaccines and I do not agree with this at all. Not only do I not agree with abortion, I also do not agree with injecting this in our bodies.
Human cell Line: PER C6 – The vaccines are derived from cells taken from the lung tissue of a child who was electively aborted at 14 weeks gestation and then dissected.
Human diploid cells: WI-38 – The vaccines are derived from cells taken from the lung tissue of a child who was electively aborted at 14 weeks gestation and then dissected.
Human Diploid cells: MRC5 proteins – The vaccines are derived from cells taken from the lung tissue of a child who was electively aborted at 14 weeks gestation and then dissected.
Vaccines that use aborted fetuses:
Acambis 1000 (smallpox) Acambis – MRC5
Avaxim (hepatitis A) Pateur Merieux – MRC5
Biavax (mumps, rubella) Merck — RA273, WI-38
Ebola – PER C6
Ervevax (rubella) Smithkilne Beecham – MRC5
Havarix (hepatitis A) Smithkilne Beecham – MRC5
Imovax HDCV, DCO (rabies) Pasteur Merieux Connaught – MRC5
Influenza – PER C6
Malaria – PER C6
Meruvax II (rubella) Merck — RA273, WI-38
MMR II (Measles, mumps, rubella) Merck Sharp & Dohme — WI-38
MR VAX (measles, rubella) Merck — RA273, WI-38
Poliovax (polio, IPV) MRC5
Priorix (measles, mumps, rubella) Smithkline Beecham – MRC5
Proquad (mmr, chickenpox/varicella) Merck — RA273, WI-38, MRC5
Rabies antibody combination – PER C6
Tuberculosis – PER C6
Twinrix (hepatitis A and B) GSK – MRC5
VAQTA (hepatitis A) MSD – MRC5
Varivax (chickenpox, varicella) MSD — WI-38
West Nile – PER C6
Zostavax (shingles) Merck — MRC5, WI-38
VACCINE MYTHS: (To read any info below in more detail or more facts, click here on "Vaccine Myths")
Vaccine Myth #1 – Vaccines are Safe

97.5% of vaccine related deaths and disabilities go unreported.
In the mid 1970's Japan raised their vaccination age from two months to two years; their incidence of SIDS dropped dramatically; they went from an infant mortality ranking of 17 to first in the world (i.e., Japan had the lowest infant death rate when infants were not being immunized).

Vaccine Myth #2 – Vaccines are Effective

In 1989 the CDC reported: "Among school-aged children, [measles] outbreaks have occurred in schools with vaccination levels of greater than 98 percent.
In the US in 1986, 90% of 1300 pertussis cases in Kansas were "adequately vaccinated." 72% of pertussis cases in the 1993 Chicago outbreak were fully up to date with their vaccinations.

Vaccine Myth #3 – Vaccines are the reason for low disease rates in the US today.

According to the British Association for the Advancement of Science, childhood diseases decreased 90% between 1850 and 1940, paralleling improved sanitation and hygienic practices, well before mandatory vaccination programs.
The Medical Sentinel recently reported, "from 1911 to 1935, the four leading causes of childhood deaths from infectious diseases in the US were diphtheria, pertussis, scarlet fever, and measles. However, by 1945 the combined death rates from these causes had declined by 95 percent, before the implementation of mass immunization programs."
2011 – Whooping Cough is showing up in children who have been vaccinated.

Vaccine Myth #4 – Vaccination is based on sound immunization theory and practice

An 8 pound 2 month old baby receives the same dosage as a 40 pound five year old child. Infants with immature, undeveloped immune systems may receive five or more times the dosage, relative to body weight, as older children.

Vaccine Myth #5 – Childhood diseases are very dangerous

Most childhood infectious diseases have few serious consequences in today's modern world. Even conservative CDC statistics for pertussis during 1992-94 indicate a 99.8% recovery rate.
Dangers of childhood diseases are greatly exaggerated in order to scare parents into compliance with a questionable but highly profitable procedure.

Vaccine Myth #6 – Polio was one of the clearly great vaccination success stories

During 1962 U.S. Congressional hearings, Dr. Bernard Greenberg, head of the Dept. of Biostatistics for the University of North Carolina School of Public Health, testified that not only did the cases of polio increase substantially after mandatory vaccinations — a 50% increase from 1957 to 1958, and an 80% increase from 1958 to 1959-but that the statistics were deliberately manipulated by the Public Health Service to give the opposite impression.
The polio vaccine temporarily reversed disease declines that were underway before the vaccine was introduced; this fact was deliberately covered up by health authorities. In Europe, polio declined in countries that both embraced and rejected the vaccine.

Vaccine Myth #7 – My child had no reaction to the vaccines, so there is nothing to worry about.

The documented long term adverse effects of vaccines include chronic immunological and neurological disorders such as autism, hyperactivity, attention deficit disorders, dyslexia, allergies, cancer, and other conditions, many of which barely existed before mass vaccination programs.
The long term adverse effects of vaccinations have been ignored in spite of compelling correlations with many serious chronic conditions. Doctors can't explain the dramatic rise in many of these diseases.
Vaccine ingredients include known toxicants and carcinogens such as thimersol (a mercury derivative), aluminum phosphate, formaldehyde (for which the Poisons Information Centre in Australia claims there is no acceptable safe amount that can be injected into a living human body), and phenoxyethanol (commonly known as antifreeze).
Some of these ingredients are gastrointestinal toxicants, liver toxicants, respiratory toxicants, neurotoxicants, cardiovascular and blood toxicants, reproductive toxicants, and developmental toxicants, to name a few of the known dangers. Chemical ranking systems rate many vaccine ingredients among the most hazardous substances, and they are heavily regulated.
Preservative FREE Vaccines? Not True.
This is another "myth" or just a plain lie if you ask me.
Multidose preparations (several doses in the same container) contain preservatives to prevent contamination from the surroundings in connection with withdrawal of several doses. This preservative is often thimerosal/mercury.
To have preservative properties it must be present in a strength of at least 0.01% in the final product. (Equivalent to 50 microgram thimerosal per 0.5ml dose, or 25 microgram mercury).
Single dose injections do not normally require preservatives because they are discarded after the one dose is withdrawn. However it is difficult and expensive to remove absolutely all of the preservative (up to 0.3 microgram per 0.5 ml dose is allowed to remain).
This is termed "trace" mercury and is not sufficient to have preservative properties because it is not present in sufficient strength.
In other words, the vaccine may be labeled as "preservative free", but only because they do not contain mercury in a high enough concentration to be labeled otherwise. This is just too  bad, because they may still contain mercury.

A simple question I have…
If pro-vaxers are sooo sure that vaccines work – then why is there such a big fuss over our non-vaxed children? If our non-vaxed children were near your vaccinated children and our child carried one of these diseases… your powerful vaccines should do their job and protect your child, right?!? So what is the big concern?
And one last question:
Does it bother anyone that it is AMERICA that requires it's citizens to use more vaccines than any other nation in the world?
I personally find that a bit interesting and alarming.
My family builds our immune in a more natural way. With healthy living, vitamins and natural heath care. We see a holistic doctor where we are able to build our immune systems by regular adjustments and much more.
VACCINES – Yay or Nay? What do YOU say?
Write a blog post and link up!
If you are not a blogger… we still love you! Let us know what you think in a comment below! We'd LOVE to here from you!!