Welcome to Week 3
of
Friendly Debates With The Danielle's!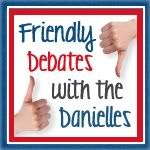 Wanna Play?
Each Week Danielle from "Happenings of the Harper Household" and I (Danielle) will host this awesome meme and we would love for you to link up and join us.
There will be a question each week that will require you to decide where you stand regarding that topic, then of course share those thoughts with the world!
RULES:
2.) If you link up please leave a comment so we can visit you.
3.) This is a meme, so you MUST answer the question in a blog post.
4.) Link directly to the blog post in which you answer the question.
5.) Grab the button and place either in your post or on your blog
6.) At the end of your post leave a suggestion for the following weeks topic.
***If we choose your suggestion you will be mentioned and linked to in the following weeks post.
***If you are NOT a blogger… then leave us a comment below because we still love you 🙂
AND THE MOST IMPORTANT RULE:
Please respect each others opinions. This means no bashing of other bloggers in comments on their posts. Kind words and genuine questions are encouraged. If you strongly disagree with someone else the place to address your view point is in a post on your own blog. If we find that you have blatantly disregarded this you will be removed from the linky.
THIS WEEKS TOPIC
Family Bathing – Yay or Nay? What do YOU say?
MY OPINION
YAY!
We are modest with the older kids, but with Gracie my hubby are not modest at all. Both Mike and I shower with her and occasionally bathe with her too.
I used to bathe with 2 of my kids, actually. Only when they were young though. Not after a certain age. (What age? I do not know.)

This was 1997… me and Austin:
This was 1999… Austin and Emma used to bathe together:
Gracie is old enough now to know body parts. With my daycare boy, Jayden, she always says "Jayden's penis." So she knows the same about Daddy although she hasn't been curious about anything yet. 
I don't see an issue until she gets a bit older.
I am ok with this until they are a bit older. Not sure at what age I think this stuff should stop. I guess each situation is different.
So now it's your turn…
Family Bathing – Yay or Nay? What do YOU say?
Write a blog post and link up!
If you are not a blogger… we still love you! Let us know what you think in a comment below! We'd LOVE to here from you!!