Welcome to Week 5
of
Friendly Debates With The Danielle's!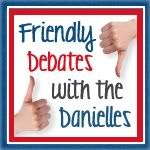 Wanna Play?
Each Week Danielle from "Happenings of the Harper Household" and I (Danielle) will host this awesome meme and we would love for you to link up and join us.
There will be a question each week that will require you to decide where you stand regarding that topic, then of course share those thoughts with the world!
RULES:
2.) If you link up please leave a comment so we can visit you.
3.) This is a meme, so you MUST answer the question in a blog post.
4.) Link directly to the blog post in which you answer the question.
5.) Grab the button and place either in your post or on your blog
6.) At the end of your post leave a suggestion for the following weeks topic.
***If we choose your suggestion you will be mentioned and linked to in the following weeks post.
***If you are NOT a blogger… then leave us a comment below because we still love you 🙂
AND THE MOST IMPORTANT RULE:
Please respect each others opinions. This means no bashing of other bloggers in comments on their posts. Kind words and genuine questions are encouraged. If you strongly disagree with someone else the place to address your view point is in a post on your own blog. If we find that you have blatantly disregarded this you will be removed from the linky.
THIS WEEKS TOPIC
Circumcision
– Yay or Nay? What do YOU say?
MY OPINION
NAY NAY NAY NAY NAY NAY NAY!!!
This is a topic that actually boils my blood and the main reason it makes me mad is because people do not study this subject. They do a quick read, listen to their doctor and then chop up the poor baby's penis. (Sorry to be blunt) Oh and another blunt comment – I think it's a horrible decision on the mother's behalf to sit back and say "I'm going to let my husband make this decision".  Both parents need to study this subject and be informed.
"Depending on the amount of skin cut off, circumcision robs a male of as much as 80 percent or more of his penile surface. Depending on the foreskin's length, cutting it off makes the penis as much as 25 percent or more shorter. Careful anatomical investigations have shown that circumcision cuts off more than 3 feet of veins, arteries, and capillaries, 240 feet of nerves, and more than 20,000 nerve endings.31 The foreskin's muscles, glands, mucous membrane, and epithelial tissue are destroyed, as well.

Circumcision desensitizes the penis radically. Foreskin amputation means severing the rich nerve network and all the nerve receptors in the foreskin itself. Circumcision almost always damages or destroys the frenulum. The loss of the protective foreskin desensitizes the glans. Because the membrane covering the permanently externalized glans is now subjected to constant abrasion and irritation, it keratinizes, becoming dry and tough. The nerve endings in the glans, which in the intact penis are just beneath the surface of the mucous membrane, are now buried by successive layers of keratinization. The denuded glans takes on a dull, grayish, sclerotic appearance."
–Peaceful Parenting
Let's watch some videos… but beware – these are graphic!
Another circumcision video.
I'm sorry I am so blunt with this topic, but these poor babies 🙁
On a side note, I circumcised my son 14 years ago. I have also regretted that decision for the last 14 years. I knew when they took him out of my arms that day in the hospital that my heart was not right with what was about to happen… but I let them take him. I cried the whole time he was away from me. I knew it was not right, but I did not know why.
I thank God I had all girls after him so that I have had all this time to study on the topic. It wasn't until 2 years ago that I finally started reading on the topic. I knew I was having a girl, so I knew that I didn't need to know about circumcision… so I started reading slowly. And throughout the last 2 years, I have learned a lot. (I'm ready for another boy now, haha)
And on another side note, would you want your clitoris cut? That's the comparison of the sensations. Ouch.
So now it's your turn…
Circumcision – Yay or Nay? What do YOU say?
Write a blog post and link up!
If you are not a blogger… we still love you! Let us know what you think in a comment below! We'd LOVE to here from you!!