Have you entered my GIVEAWAY? The last day to enter is Friday!!
I am really looking forward to this weekend. I really need some relaxation. Although I highly doubt I will get it. Weekends are always my "catch up" time. Time to catch up on laundry, grocery shopping, cleaning.
I read all these SAHM's/WAHM's/Homeschool mom's blogs & wonder how you all stay so organized… and you are all so crafty. Heck, I don't have time for crafts! What am I doing wrong?!?
It's 9pm (Wed. night) and I just NOW got to sit down to relax. I have to wait until the daycare kids leave, do dinner, homework with the kids… laundry if we have nothing to wear tomorrow needed. And now hubby is bothering me to go to bed!!! OhMyGosh!!! I sooooooo need more time to myself to wind down!!!
And while I am on a role here, am I the only one who feels overwhelmed at times? Do you all have it perfectly together ALL the time? I'm up to my eyeballs in bills w/out enough money. I rob peter to pay paul. I went from 5 daycare kids down to 2 – so that is the main reason. I am trying to get more, but I am having no luck. I can't seem to keep up on house work even though the kids help me with the kitchen every night. I feel like I need a maid! But I am HOME all day! Why can't I do what needs to be done around here? Well I know why – I have kids to shoe out the door every morning, followed by little rugrats running around all day, followed by those big kids coming home & flipping the house upside down. It's a never ending cycle.
Someone gave me this link to "FlyLady" – this site is like an organization site. It looks great, but I hardly have time to check it out. I really want to though.
Anyway, I guess my rant is over.
Now on to blog hops 🙂   <~~~~~~~ See, I am still smiling!
Be sure to leave me a comment so I know you were here & I will visit you too.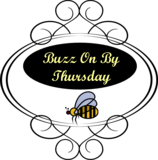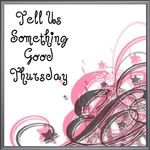 "Tell us something good"
Ok. I am exhausted. How 'bout I SHOW you something good?
THIS WAS LOVELY!
I was feeding Gracie dinner really quick before Daddy got home from work so we could all take a walk… I took my eyes off of her for just a few minutes 10 seconds! And THIS is what happened!!
Oh how I love her. I wish I could have a million more just like her 🙂
Here is a Twitter Hop:
There you have it!
Have a great day!